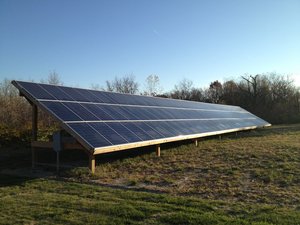 754 kilowatts of Community Shared Solar are ready to flip the switch. This is not some far out dream or a conceptual idea. This array is built. Power will start flowing as soon as the utility commissions this system in Western Mass.
When the utility receives electricity from our array onto the grid, they change those kilowatt hours into net metering credits and distribute them to participating electricity accounts.

Anyone who wants to save 15% on their electric bill in Eversource Western and Central Mass can subscribe.

HERE'S HOW IT WORKS
1) You sign up for certain number of shares in the community solar array.
2) At the end of each month, you'll receive a credit on your electric bill that represents your portion of the kilowatt hours produced by the array. (The utility converts kilowatt hours into credits when they're placed on the grid.)
3) You'll pay Co-op Power 85% of the value of your credits through your Common Good account. For each hundred dollars in credits you earn on your electric bill, you pay Co-op Power eighty-five dollars.
SITE BACKSTORY
This site was developed on land owned by a farmer who was looking to supplement income. The solar array is providing enough resources to allow him to stay in business.
COMMON GOOD
We are using Common Good (formerly r-Credits) as our payment processor. They provide this service for free. It's free for you to sign up and there are no transaction fees for the Community Solar Shares. Other benefits from Common Good include credits for other purchases and bonus credits based on all your transactions.